Isagenix Collagen Bone Broth

What is the Isagenix Collagen Bone Broth?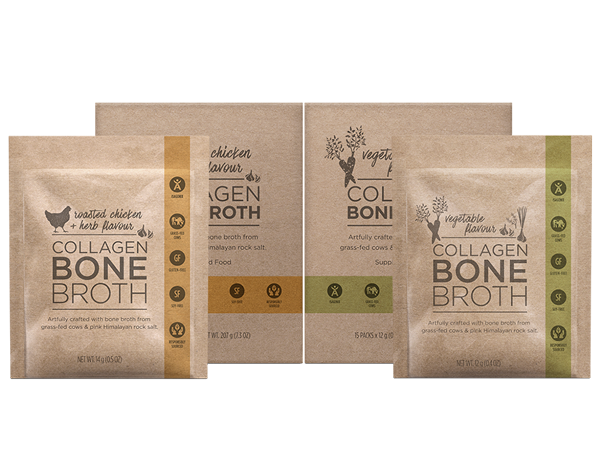 The collagen in your body decreases naturally over time, which can contribute to wrinkle formation, weakening of joint cartilage and other reduced functionality throughout the body.
Isagenix Collagen Bone Broth packs 6.5 g of collagen peptides which are more effectively absorbed by the body, from grass-fed cows, making it the perfect way to care for your collagen without blowing out your calories!
Who knew collagen was the most abundant protein in our body? It's time for your natural peptides to prosper with this delicious savoury superfood. Not only will Collagen Bone Broth support your joint health on the insides, but it'll also be a saviour for your skin and may even enhance your hair and nails.
Retail Price: $62.67
Sign Up and Save Price: $47.00 (Save $15.67!)
Ingredients:
8 g of protein
6.5 g of grass-fed collagen peptides
Tri-Amino Complex of hydroxyproline, glycine and proline
Antioxidant Vitamin C to promote collagen production and overall health
Savoury snack for your intermittent fasting
Natural ingredients with no artificial colours, flavours or sweeteners
Ages 4+
Best Ways to Broth
Mix & Drink
Stir one pack with 120 – 240 mL heated water and sip the steamy sensation.
Whip Up Into a Soup
Add your favourite cooked vegetables and/or cooked meat.
Enhance Recipes
Combine with your favourite recipes and warm dished for added flavour.
Just what you need with nothing you don't
All-natural ingredients with no artificial colours, flavours or sweeteners with types I & III Collagen peptides from grass-fed cows.