Isagenix Dairy Free Shakes have arrived!
Are you a loyal Isagenix fan ready to lose weight and stay satiated with delicious and nutritious dairy-free meal replacement shakes? If so, say hello to Isagenix's newly released Dairy Free IsaLean Shakes! Exclusively available for health-conscious Australian and New Zealand residents, these power-packed shakes contain 24 grams of rice and pea protein per serving, making them an ideal alternative to dairy-based meal replacement shakes.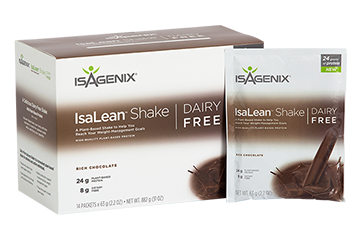 What is in the New Dairy Free Isagenix Shake?
Terrific for vegans and people with dairy allergens looking to lose weight, Isagenix's new Dairy Free IsaLean Shakes are a nutritionally complete source of plant-based protein.
Unlike other meal replacement shakes, Isagenix Dairy Free Shakes are derived from pea and rice proteins and loaded with good fats and energy-boosting carbs, providing your body with the very best dairy free nutrition. It isn't a substitute for exercise and a healthy diet, but a shake a day will have you feeling and seeing slimming results in no time.
Healthy and unique ingredients that make the new Isagenix Shakes so tasty, and nutritious:
Pea protein isolate and whole grain brown rice protein (45.7%)
All-natural Dutch cocoa powder
Evaporated cane juice
Sunflower lecithin
Sunflower oil powder
Chia seed powder
Olive oil powder
Whole grain rice milk powder
Flax seed powder
Molasses Powder
Cinnamon
Nutrient and vitamin-rich fruit and vegetable blend
How the Dairy Free IsaLean Shake Works
The new Dairy Free Isagenix Shakes are specifically designed to promote lean muscle growth and weight loss. With premium protein sources, 1045kJ of energy, and a well-balanced nutritional profile, the shakes provide you with energy and keep your body feeling comfortably full without depriving it of the nutrition it needs. The market is full of protein shakes. However, the Dairy Free Isagenix Shake is much more than a protein shake; it's an entire meal.
Dairy Free Shakes – Fast Facts
24 grams of premium plant-based protein per serving
1045kJ of energy
Active enzymes and eight grams of fibre for easier digestion
Delicious chocolate flavour
No artificial flavours, sweeteners, or colours
A Completely Isagenix Dairy Free Protein Source
Isagenix's new Dairy Free IsaLean Shake comes in a rich chocolate flavour and contains both whole grain brown rice and pea protein, making it 100 percent dairy free and an excellent source of nutrition for anyone with dairy allergens or those looking to boost their plant-based nutrition. Similar to the brand's standard IsaLean shake, this new dairy-free option acts as a complete meal replacement and has the nutrition needed to make it a staple of your diet and Isagenix program.
Benefits of Dairy Free
Excellent source of high-quality dairy free protein
Comfortably fills you up for longer
Helps with weight loss and lean muscle growth
Highly digestible with fibre and enzymes for regularity
Dairy Free Isagenix Shakes are Perfect For:
People with sensitivities to dairy allergens
Vegans or anyone interested in consuming more plant-based protein and nutrition
Individuals looking to lose weight and stay lean without sacrificing taste
What the Dairy Free Shakes Can Do for You
Build Lean Muscle – The premium plant-based protein in the new Isagenix Dairy Free IsaLean Shake promotes and maintains lean muscle growth
Achieve Your Weight Loss Goals – In addition to containing filling protein and fibre, the shake also has a low glycemic index to support weight loss and management.
With so much healthy dairy free nutrition and a rich chocolate flavour anyone with a sweet tooth can't help but love, the new Isagenix Dairy Free IsaLean Shake is a definite must in your pantry. If you're looking for a knockout product to add to your Isagenix program, give this delicious and nutritious shake a try today. Your body will thank you!