Isagenix IsaGenesis
The Isagenix President's Pak is an amazing value on an amazing product! Containing not one or two but eight bottles of Isagenic IsaGenesis, the President's Pak is a great way to share the rejuvenating power of IsaGenesis with others and kickstart your Isagenix business.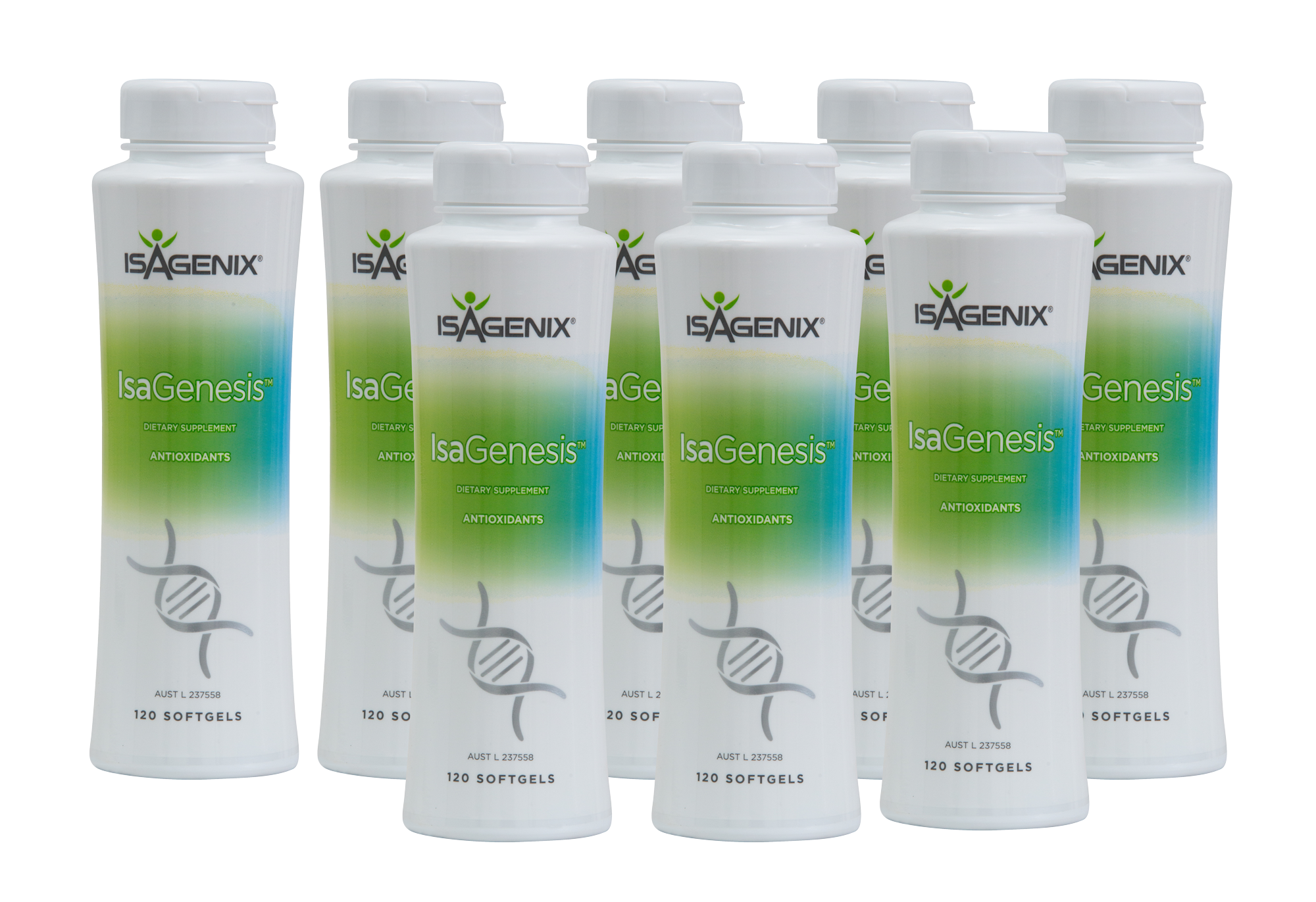 Retail Price: $120.00/1count
Sign Up and Save Price with FREE membership $90.00/1count (Save $30.00!)
What is IsaGenesis?
IsaGenesis is an advanced scientific formula of vitamins and complex botanicals designed to help reduce oxidative stress and support telomere health. The proven formula is in its fourth generation and utilises cutting-edge extraction techniques, making it wildly effective and the #1 telomere support product on the market.
Created by Isagenix co-founder John Anderson and Dr. Bill Andrews, one of the world's top youthful aging scientists, IsaGenesis makes use of over 30 bio-active botanicals and vitamins to reduce oxidative stress, protect telomeres, and promote youthful aging.
Thanks to Dr. Bill Andrews' experience and expert knowledge of telomere support, and Isagenix co-founder John Anderson's nearly four decades of experience formulating natural "super food" supplements, IsaGenesis is a unique, all-natural product proven to reduce oxidative stress, improve telomere health, and help neutralize free radicals responsible for aging and poor health.
Here's a snapshot of what IsaGenesis can do for you:
Reduce oxidation
Neutralize free radicals
Support telomere health
Boost energy levels
Improve sleep, memory, and mental acuity
Increase endurance
Faster recovery
Live Long and Young
If you want to feel better and enjoy more youthful aging, IsaGenesis may be just the answer you've been looking for. Once the most anticipated Isagenix product launch in over a decade, IsaGenesis has become a staple in the brand's product lineup and in the medicine cabinets of health-conscious individuals around the world.
IsaGenesis – How Does It Work?
Isagenesis is loaded with antioxidants and a variety of all-natural ingredients designed to provide telomere support and promote more youthful aging.
How Effective Is IsaGenesis?
Like all Isagenix products, IsaGenesis has undergone extensive scientific testing to ensure the safety and effectiveness of each and every ingredient. From the testing of various raw materials to finished product safety verification via independent third-party laboratories, Isagenix's commitment to quality is second to none.
As one of Isagenix's top products, IsaGenesis is incredibly safe and effective at promoting telomere health. If slowing down the effects of aging is at the top of your priority list, as it should be, then IsaGenesis should be at the top of your shopping list.
With the President's Pak, you can share the benefits of IsaGenesis with others, jumpstart your Isagenix business, and keep the world looking and feeling younger one person at a time.
How Do I Buy the Isagenix IsaGenesis President's Pak?
You can buy the Isagenix IsaGenesis President's Pak in the following ways:
RECOMMENDED: Sign up and Save ($90.00/1count + Free Signup) — This is the cheapest and most popular option. At the end of checkout you will be asked to enter your autoship order, which is the order you will receive in 30 days time. You can cancel this at ANY time!
Full Retail ($120.00/1count) — If you just wish to purchase one-off and/or not sign up for an Isagenix account, purchase at full retail prices.
All Isagenix products and packs are covered by a 30 day money back guarantee. Should you not get the results you desire, Isagenix will refund you!
Do You Want More Information About the Isagenix IsaGenesis President's Pak?