Isagenix Replenish
Containing 20 percent more electrolytes for faster recovery, the new and improved Isagenix Replenish sports drink is specially formulated to help you power through workouts and recover stronger than ever before.
Replenish is great t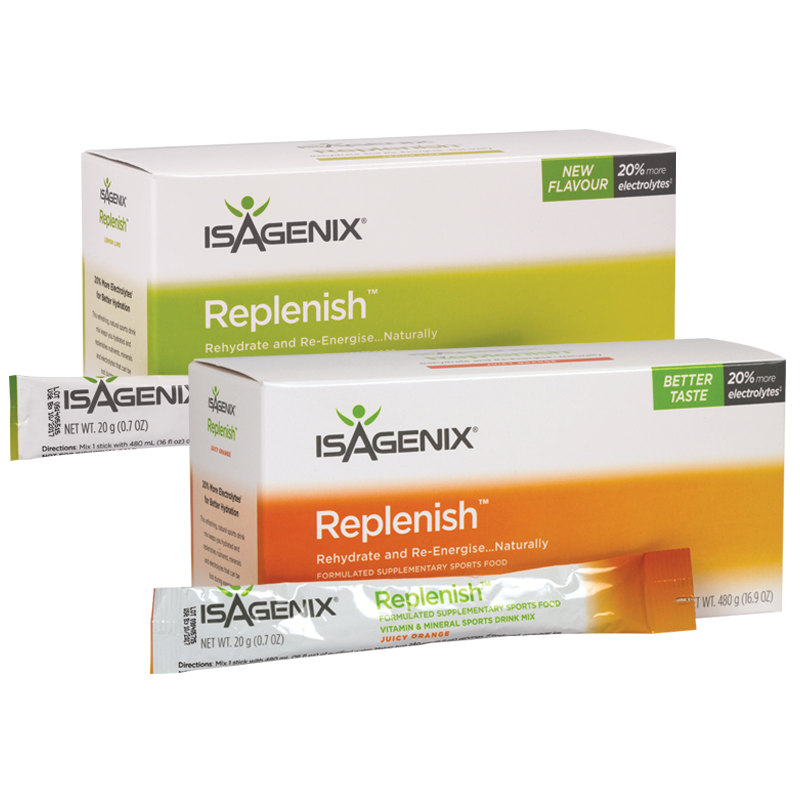 o drink during tough workouts or sip throughout the day, helping to optimize your hydration, sustain your performance, and promote faster recovery. Available in delicious Lemon Lime and Juicy Orange flavours, the power-packed sports drink is tasty as well!
Retail Price: $35.00
Sign Up and Save Price with FREE membership $27.99 (Save $7.01!)
Isagenix Replenish – What Is It Exactly?
Replenish is a specially formulated sports drink mix designed to support hydration, sustain performance, and aid in recovery. The popular drink mix is enriched with B-complex vitamins, Vitamin C, and a generous serving of electrolytes, keeping you refreshed, naturally hydrated, and replenished after a tough workout or long day on the job site. With Replenish, Isagenix has truly reinvented the sports drink.
Why You Need Replenish
Replenish is an all-natural sports drink mix packed full of electrolytes and essential nutrients, allowing you to stay well-hydrated without artificial sweeteners, flavours, or colours.
Isagenix Replenish is formulated to optimise hydration and help everyone from professional athletes to weekend warriors perform at their best.
A grueling workout can take its toll on your body, depleting it of water, electrolytes, vitamins, and essential nutrients. Proper hydration with Replenish puts these back into your body and helps speed up the recovery process.
How It Works:
Replenish can be enjoyed before, during, and after each workout to maintain proper hydration and sustained performance. Each Replenish sports drink stick contains two servings. To use, simply pour the contents of half of a stick into your water bottle and mix. That's all there is to it.
Since Replenish is designed to take on the go and mix up in a sec, there's no reason not to make it part of your pre-, during-, and post-workout routine. Here's a look at how Replenish helps your body during each of these phases:
Pre-workout – Before exercise, Replenish helps support and maintain healthy hydration and cellular activity.
During workout – During exercise, the proven sports drink mix helps support muscles for sustained endurance and physical activity.
Post-workout – After exercise, it replaces depleted nutrients and electrolytes, helping to aid in the recovery process.
While it's particularly beneficial during and after a workout, Replenish can be enjoyed any time. It's all-natural, tastes great, and contains plenty of energy-boosting ingredients, so you can mix up a drink whenever you need a refreshing energy boost.
Ingredients:
Fructose
Dextrose
Potassium citrate
Acidity regulators
Sodium chloride
Acidity regulators
Evaporated cane juice
Vitamin C, B1, B2, B3, B5, B6, B7, and B12
Folic acid
Chromium picolinate
Zinc oxide
Alfalfa leaf
Natural sweetener
Replenish – Mix Up Some Hydration
Each serving of Replenish contains the beneficial all-natural ingredients above and 1745 kJ of energy, giving you the hydration and boost you need when you need it most. Simply empty half of a Replenish stick into one cup of water, mix it up, and enjoy ultimate hydration today!
How Do I Buy the Isagenix Replenish?
You can buy the Isagenix Replenish in the following ways:
RECOMMENDED: Sign up and Save ($27.00 + Free Signup) — This is the cheapest and most popular option. At the end of checkout you will be asked to enter your autoship order, which is the order you will receive in 30 days time. You can cancel this at ANY time!
Full Retail ($35.00) — If you just wish to purchase one-off and/or not sign up for an Isagenix account, purchase at full retail prices.
All Isagenix products and packs are covered by a 30 day money back guarantee. Should you not get the results you desire, Isagenix will refund you!
Do You Want More Information About the Isagenix Replenish?