Isagenix Ageless Actives
What is the Isagenix Ageless Actives?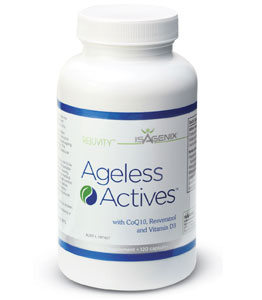 Ageless Actives provides ultimate support for a healthy body, Isagenix-style. This revolutionary product combines powerful natural substances, including CoQ10, vitamin D3, and Resveratrol, to promote healthy cells and support strong, healthy tissues and cells, all while preventing premature aging from within.
Add Ageless Actives to your daily nutritional plan for a healthy brain, heart, liver, kidney, and muscles.
Isagenix developed Ageless Actives as a whole-body health supplement to support its overall mission, which is to improve your health and make your life better.
• Supports resistance to fatigue and stress
• Promotes healthy cells
• Supports healthy aging and fights premature aging
Retail Price: $62.40
You can now buy Isagenics in Australia from Perth, Melbourne, sydney, Brisbane, Adelaide and even Tasmania and New Zealand.
Sign Up and Save Price: $48.00 (Save $14.04!)
Ingredients:
Product Marketing Materials