Isagenix Energy & Performance President's Pak
Grow lean muscle, raise energy levels and reduce fat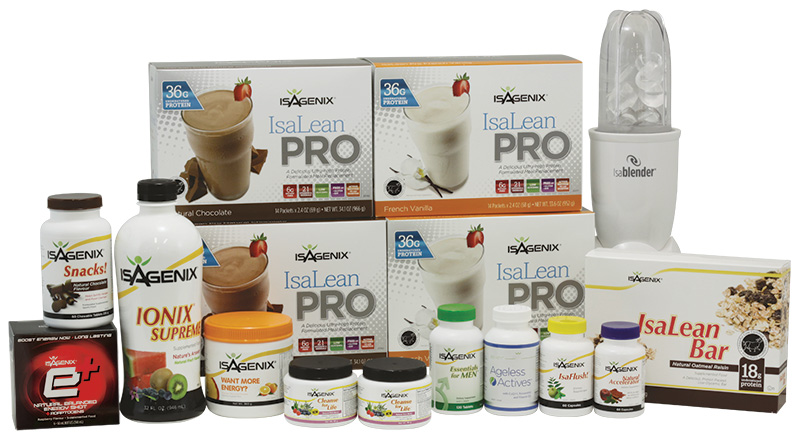 For serious results from your workouts, you need to get serious about your nutrition. When you want to build lean muscle and reduce body fat, turn to the Isagenix Energy and Performance President's Pak.
The Isagenix Energy and Performance President's Pak from Isaboost is uniquely designed to help you make the most out of your workouts. It is a perfect choice for people serious about their workouts, active people, and elite athletes who want to take their performance to a higher level.
Designed to deliver constant energy pre and during workouts, boost metabolism, build muscle through providing complete, healthy nutrition, and help muscles recover quicker, the Isagenix Energy and Performance Presidents Pak features products that combine to give you the top performance you crave.
Looking for more of a weight loss solution? Try the standard Isagenix President's Pak!
Retail Price: $750.20
Sign Up and Save Price with FREE membership $588.50 (Save $161.70!)
How Do I Buy The Isagenix Energy & Performance President's Pak
You can purchase the
Energy & Performance President's Pak from Isagenix
in a number of different ways:
RECOMMENDED: Sign up and Save ($588.50 with Free Signup) — Sign up to the Autoship program to have access to the cheapest wholesale prices year round and get your Isagenix program delivered straight to your door every month. Autoship can be cancelled or changed at ANY time, even after you take advantage of the cheaper prices on your first order! You'll also be eligible to make money from Isagenix (if you wish to pursue this – this aspect is completely up to you). To sign up on autoship:

Click on the 'Buy Now' button on this page. This will open my Isagenix Associate website.
On my associate website click 'Sign Up and Save'
Select your country
Select 'Yes, I want to enroll as an independent Isagenix Associate and participate in the Autoship Program' (please note: this page states that this is $25. With this program this is free and the cost is waived during checkout)
Proceed through checkout and submit your order
IMPORTANT: Please ensure you receive a confirmation email from Isagenix. If you submit your order and you don't receive a confirmation within 5 minutes, please contact me on 0411 0411 58.

Preferred Customer ($623.70) — You can still get access to cheaper-than-retail prices, however this option will cost you $35.20 more and you won't be eligible for the Isagenix income opportunity.
Full Retail ($750.20) — If you prefer not to sign up and take advantage of the lower pricing, you can purchase the products at full retail price.
Your first order is covered by a product money back guarantee within 30 days. If you're not completely satisfied with your Isagenix Energy President's Pack, send it back to Isagenix for a refund!
The Isagenix Energy & Performance President's Pak Contains:
Review
Overall rating:
☆☆☆☆☆
out of 5 based on
0
reviews
The Isagenix Lifestyle — A Unique Business Opportunity!
Did you know you can make a substantial living from Isagenix? I quit my 9-5 after only 2 months in the program and I'm now earning more than I ever have before. Join the fastest growing team in Australia and reap the huge financial and lifestyle benefits!
Just by sharing Isagenix with your friends and family, you'll be eligible to collect huge bonuses!
The Isagenix Compensation Plan:

Want More Information?
Save